Comments
Comments that this user has made.
Posted on:
Unison Melee creation
@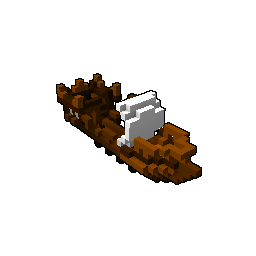 Nezz
Yeah its a bit of a weird logic, but i do need to check uploaded blueprints so devs get the verified stuff. It makes more sense if you think of it in a way that you upload a new Troxel link and make other updates to the post every time you send it to review, and you also make new blueprint to check your creation in game every time you make changes so you have that anyways, might as well upload it too :)
Posted on:
fine tuner Fist creation
Posted on:
fine tuner Fist creation
Posted on: Rose Spike Melee creation
Hello!
Sword looks good, good color combination and idea too! However, there are over 900 sword styles in Trove so all new swords have to be truly unique and exceptional.
At the moment your design feels close to
Bristling Beauty and
Greenhorn Sword (overall impression). I do think it would be alright to keep your idea (short rose with huge thorn) but may be at least thorn could be brownish color instead of green? Some shading on the model could be good too, in a way of colors being darker where there are shadows and brighter where more light falls on the model.
You might want to give Material Maps a try, those are used to make voxels glow, shine like metal, be transparent like glass and so on, but there are few options for solid voxels like Waxy or Water too.
You made a really nice model, but it does need a bit more love and effort before i would be able to approve it.
Going to set the status of your creation to Active for now, do set it back to Review if you upload any changes to your model :) If you d rather post something completely different instead you can always set it to Draft, that will remove your creation from the list of Active and will free up a creation slot.
In any case, good luck!
Posted on:
HELLi Staff creation
Posted on:
HELLi Staff creation
Hello!
That helicopter looks dangerous :O Lots of guns and details but design is solid and shape is recognizable, good job!
We do have a
Medi-Whack Chopper but its a sword and has different theme so i think its alright :)
Approving.
Thank you for the blueprint, but please if you upload do use the naming pattern of styletype_stylename[CreatorsName].blueprint , staff_helli[Nezz].blueprint in this case. There has to be a type of a style and only capitals can be in Creators Name which should be in square brackets.
Posted on: Drilling platform Dungeon (1 Star) creation
Hello!
Sorry for the delayed review.
First of all, wow, this is a very impressive dungeon design. Great job on variations and material mapping, looks great! All technical things like plugs and portals are absolutely correct too, well done :D
There are some moments that i believe could use a bit more love though.
Some variations of assembled dungeon have middle pipe misaligned, and while it doesnt serve functional purpose it would still be better to have it align.
passage_varb.blueprint room has two cylindrical buildings that are connected with bridge without floor, if players with 2 jumps fall down from there or inside the second building they are going to have really hard time getting back up. Some jumping platforms here and there or extra doorways could solve this.
boss rooms look good, but if you connected all those rock formations to walls and hid the box sides the rooms would look much more natural and refined.
Aside from that, we ve just had another user post a geode topside dungeon (that got approved some days ago) which had similar shapes and structures. I mean cylinder and 3-store rectangular buildings in this one https://trovesaurus.com/creation=268/old-storage-invaded-by-young-leviathan. While it might be far-fetched reference and yes indeed those two are quite basic shapes i would still suggest to go with more unique designs.
It is not forbidden in any case to create dungeons that have matching looks and themes, that is more or less unavoidable within same biome, but i would rather not have a situation where one user can complain that someone else used their designs and got a dungeon with them in game instead of original creator. Hope you understand.
In any case, you ve done a great job on this dungeon already and with just a bit more effort it would be a truly great addition to Geode Topside :) Looking forward to seeing it on Review again!
Posted on:
Feather Hair Hair creation
Posted on:
Feather Hair Hair creation
Posted on:
fine tuner Fist creation
Posted on:
fine tuner Fist creation
Hello!
Sorry for the delay.
Fist looks good, quite a curious concept :) Good job on material maps too!
Id like to suggest a tiny bit of shading on the design though, and may be something for the 'front' to make it less flat. Something along these lines (as usual, not perfect):
Also the blueprint you uploaded seems to be completely white, please doublecheck.