Hubdate Patch Notes
Hubdate Patch Notes
Source: http://forums.trovegame.com/showthread.php?145643-Hubdate-PC-Update-Sept.-22-2020
Welcome back, with a bigger and better Hub than before!

We hope you feel just at home with the new Hubdate released today on PC.

The PC Hub update or "Hubdate" is filled with features you could have found through menus, but now have a physical form and home! A similar update will come to console platforms as well in the near future.

Be sure to visit the Hub and check out the Hub Guide for more info. Let us know your new favorite hangout at the Hub!

Lots of other changes and fixes have also been added in this patch so prepare to discover new Delve bosses, dungeons, styles, and much more. Trove is also now fully playable in Spanish!

So what are you waiting for? It's time to dive into Trove and see for yourself what's new!

Check out the patch notes below for all the details:
Patch Notes - September 22, 2020
Hubdate
---
New Hub
Most areas of the hub have been completely changed with the intent to allow players to have actual interaction points for many things that previously only existed in menus.
Luxion now appears in the Light's Den (below the Trove hub) when he lands. Access to the Light's Den can be found in front of the Crafter's Corner and Battle Station.
---
Hub Sections
The images below are from the Spring Hub and may be different from what is currently available.

Landing Pad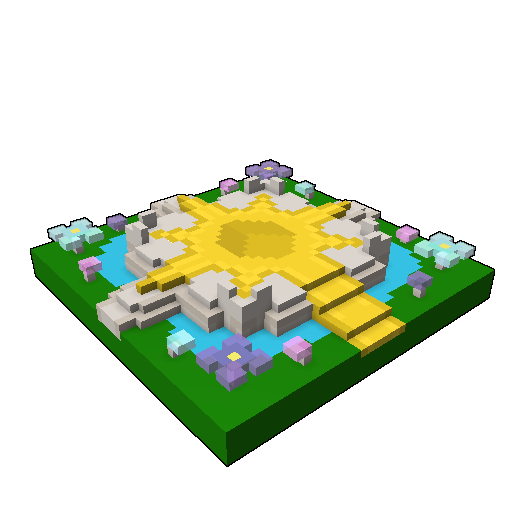 A Welcome Screen board and Adventure Board now appear on the Landing Pad. Interacting with them will open the Welcome screen or the Adventures UI.

Sun Goddess Statue

In front of the Sun Goddess Statue and to the left is a new interaction point for the Store. Right next to the Sun Goddess Statue is a new interaction point for the Claims UI. The Claims interaction point will have a little present floating over it if an item is available to claim.
In front of the Sun Goddess Statue and to the right is the Atlas. Right next to the Sun Goddess Statue is the Radiant Merchant.

Club House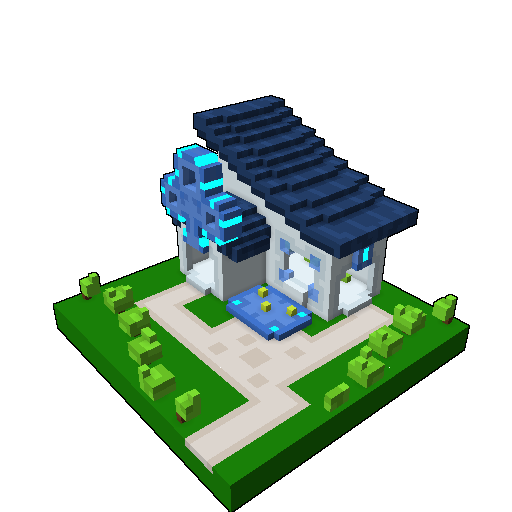 The Club House can be found to the left of the Sun Goddess Statue. A level 1 merchant can be found outside along with a clubit minting machine. 3 Portals for Clubs with Active Heroes can be found inside, along with interaction points for Liked Worlds and Clubs.

Character Corner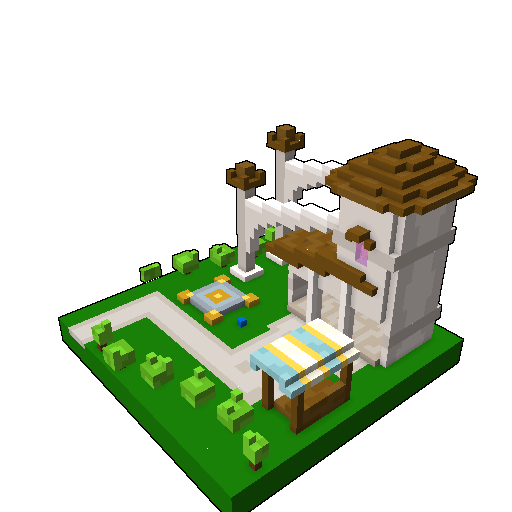 The Character Corner can be found to the right of the Sun Goddess Statue – inside can be found a barbershop and class changer, along with new interaction points for the character sheet and collections UI.
Outside Character Corner can be found the Featured Item Workbench - this workbench, located to the right of the Sun Goddess Statue, features a rotating weekly selection of one collectable. The collectable is displayed above the workbench, and can either be crafted or purchased for credits. The Featured Item Workbench is intended to be a way for new players to find things to craft that are available on other benches!
To the left of Character Corner can be found a new interaction point for the Marketplace – buy and sell with other players!

Guild Halls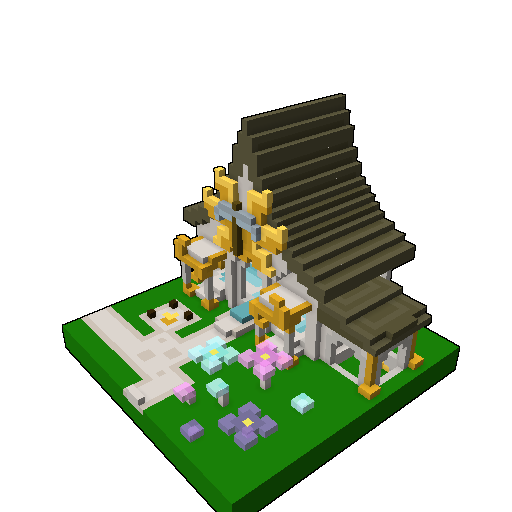 To the right of the Landing Pad is the Delve Guild Hall, with a Loot Collector, Personal Chest, and Rejuvenation Station outside. Inside the Delve Guild Hall can be found a Delve portal along with the workbench and merchants.
A Geodian Guild Hall can be found below the Delve Guild Hall, with workbenches and a portal to the Geode Hub.

Event Venue (no event active - spring)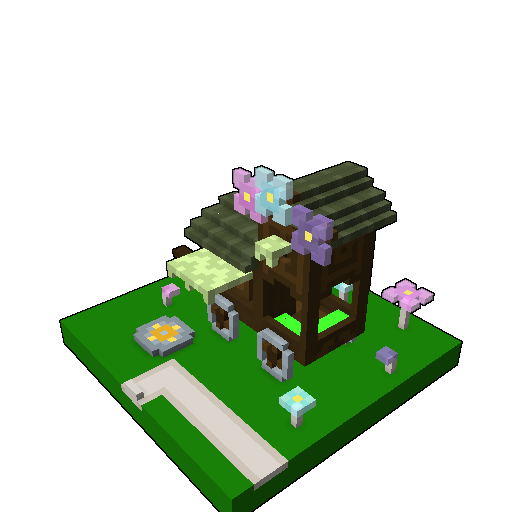 To the left of the Landing Pad is the Event Venue. This section of the hub is where all future hub changes for events will appear. A Radiant Dayspring can also be found in this location.

Leaderboard Lounge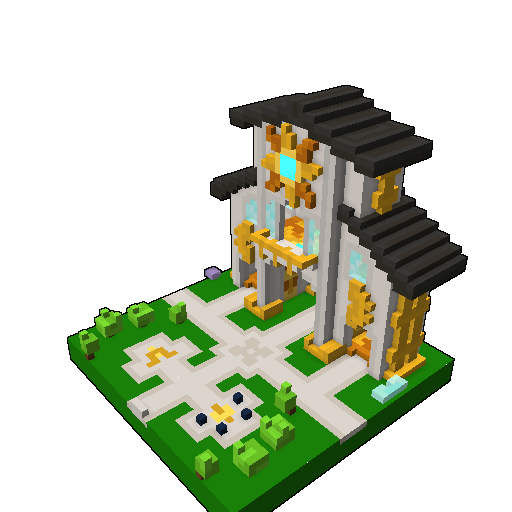 Directly behind the Landing Pad can be found the Leaderboard Lounge, with a Chaos Core Crafter, All-purpose Key Mold, Gem Forge, Rejuvenation Station, Personal Chest, Trading Post, Loot Collector, and Novice Crafting Bench in front of it. The Leaderboard Lounge has an interaction point for the Leaderboards on the second floor, in the middle of the building's arch.

Crafter's Corner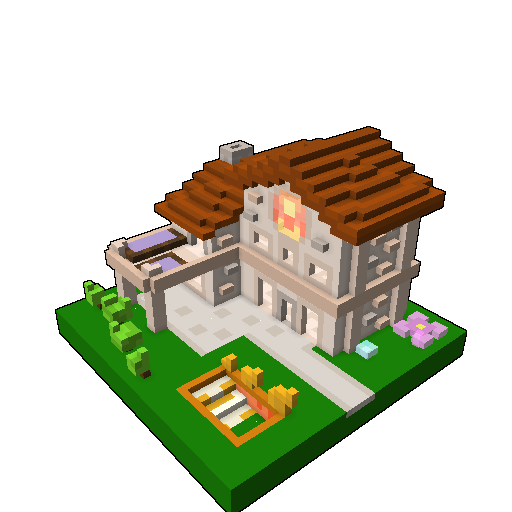 To the left of the Leaderboard Lounge is Crafter's Corner, with a Gardening Bench, Runecrafting Bench, Shadowy Station, Snowfest Table, Bunfest Station, Turkeytopia Table, Wheel of Seasons, and Ringcrafting Bench on the first floor. A Crystallogy Station can be found on the second floor.

Battle Station and Dragon Crucible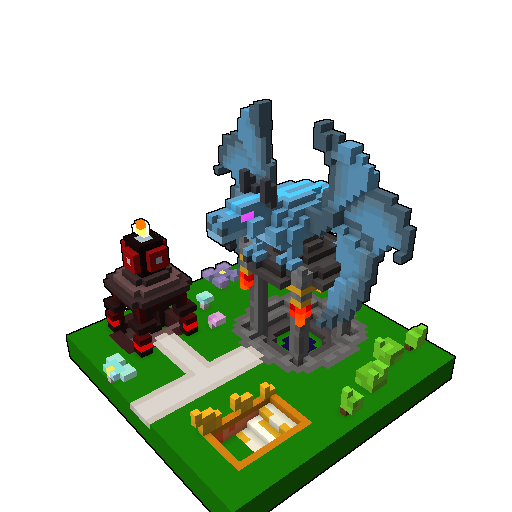 To the right of the Leaderboard Lounge is the Battle Station for all Bomber Royale related needs. To the right of that is a Dragon Crucible.
Saltwater Sam and the Nautical Assembler are no longer in the hub but are both in drowned worlds
---
Quests
The Expertise section of the Adventures menu has been renamed to Quests
Quests are now designated as main quests (Quebsly's Quest, Gemsly's Gem Expertise Quest, Hero's Geode Topside Quest) or Side Quests (Tomes, Building, Geode Caves, Marketplace)
Trovians are now asked to talk to folks in the hub to pick up their quests. Questgivers show up as main quests are completed. Players who have already started these quests bypass this new requirement.
Main Quests:

The golden thread has been replaced with Quebsly's Quest to more smoothly guide new players into the game and introduce everyone to the new hub.
Qubesly is offering his new quest to all Trovians is and completing Qubesly's Quest grants a day of Patron, Qubesly first shows up near the base of the Sun Goddess statue and then moves around the hub as players progress in his quest.
The Gem's Expertise Quest is now provided by Gemsly. Gemsly shows up near the Leaderboard Lounge after Qubesly's Quest is completed. Trovians who have already completed this quest are not asked to complete it again.
The Geode Topside Quest is now provided by Hero, from the tutorial. Hero shows up in the Leaderboard Lounge after Gemsly's Gem Expertise Quest is completed. Trovians who have already completed this quest are not asked to complete it again.

Side Quests:

The Tomes Expertise Quest is now provided by Hobbes, the QA Cat. Hobbes shows up in the Crafting Corner library after Qubesly's Quest is completed. Trovians who have already completed this quest can find Hobbes up in his office and are not asked to complete it again.
The Building Expertise Quest is now provided by Bubs the Builder. Bub's shows up on the Crafting Corner's Roof after Qubesly's Quest is completed. Trovians who have already completed this quest are not asked to complete it again.
Picking up Amberine's Geode Caves thread now requires talking to Amberine in the hub. Amberine shows up near the entrance to the Geode Guild Hall once Quebsly's Quest is completed. Trovians who have already completed this quest are not asked to complete it again.
A new quest has been added to teach Trovians about the marketplace. Complete Gemsly's Gem Expertise Quest to draw Marakeet to the hub. Marakeet shows up near the new Marketplace interactable.
Completing Marakeet's Marketplace quest grants Mark the Mini Marakeet.
---
New Delve Bosses
Two new Delve bosses have been added: the Shadow Hydrakken and Flakbeard. These bosses are more difficult than normal delve bosses and are only accessible by special Delve gateways found in Pressure Locked Caches.
These gateways always open a Delve at depth 128, and have a high chance for the appearance of either the Shadow Hydrakken or Flakbeard as the boss in the third tier encountered. The Shadow Hydrakken and Flakbeard can also appear in subsequent tiers, although very rarely.
Two new banner styles have been added, with the recipes being dropped rarely from Flakbeard and the Shadow Hydrakken. Once learned, these styles can be crafted at the Delve Workbench.
Pressure Locked Caches can now also drop two new framework recipes – one for Flakbeard's Head and one for the Shadow Hydrakken's head.
The non-tradable versions of Ferdinand and Ol' Wobbles can no longer be obtained from Pressure Locked Caches.
The Delve Workbench has been adjusted to have all allies under a single category and to add a new "Banner Styles" category.
---
Banner Styles
The Banner Equipment slot can now be styled! Deconstruct Delve "Light Banners" to unlock the styles associated with them.
Banner slots can now be hidden using a style, just like face and hat equipment.
A new collection group has been added for banner styles, the Geode Companion styles were moved into the combat group
---
Spanish Translation
Trove is now fully translated in to Spanish! Just go to Settings > Language and select Español from the dropdown.
---
New Dungeons
New Neon City Dungeon from Evilagician!
---
New Styles
Added Mortician's Mimicry staff by FailedVictory to Highlands.
Added Alternate Astronaut helmet by Cicasajt to Stash Exclusive.
---
Additional Updates
Titan and Lunar Souls are now granted from each Shadowy Soul Vault; Despoiled Divinity is granted on each after the first. The maximum amounts of each obtainable per week has not changed.
New deltaliths have been discovered in Delves.
The Public Delve Matchmaker will now start a delve after 5 minutes rather than waiting for 10 minutes.
The Fiery Balephantom boss in Delves can now drop a Gateway which grants access to a new delve boss.
The "Split Personality" modifier can no longer be applied to Delve bosses.
Added cooldowns for repeatedly inviting people to a club. /dnd and ignoring the user will also stop invites coming from user.
Using /getgemboxinfo or /getgbi on Wednesdays will display how many gem boxes your allowed/currently have been awarded for easier tracking.
Reduced the number of adventures needed to earn rewards for the Adventures Completed Weekly leaderboard. The top 5000, 2500, 250 now are eligible to get rewards as soon as they are past the 45 adventure mark.
Adjusted the rewards for Leaderboards to consistently display top down when there are less than 5 rewards.
Added "GM Master Quest" to the default inventory in Metaforge. This is the quest object used for 5 Star Dungeons.
Club rent due should now consistently show correct information.
Lucky Clovers and Experience Coins / Class Boosts can now be used when in Private and Challenge Delves.
Pressurized and Heavy Pressurized Chests in Delves now have a minimum PR to open, which is based on their depth.
In Delves, the Vengeful Pinata God now has a limit on the maximum frequency at which he can spawn adds.
Newly purchased Flooring Catalog recipes can no longer be traded.
Players can no longer use /join to join in to another player's tutorial world.
New "how to play" interactive objects have been placed in the starting locations of adventure worlds.
Certain "Trove Agency" Adventures no longer leave a "!" above the head of the offering NPC once completed.
Added a helpful icon to the Gather Glacial Shards quest.
Amberine no longer audibly tells the player she wishes to visit Trove, since she's already made her way there.
Corrected mastery values on various event collectibles.
Increased mastery for some mounts and allies from chaos chests to more accurately reflect their abilities or rarity.
All the recipes on the Mount Taming Bench now unlock the relative mount rather than giving an item version. Existing item versions of these mounts are unaffected, and talismans continue to remain tradable.
Updated the introductory movie to reference gamigo instead of Trion.
Fixed the tail for Lanterel, the Lasting Light.
Added missing parts to the Pirrot Raiser's Grave Goliath.
Added a tail to the Phantataur.
The description on the Ice Sage class gem key has been clarified.
Corrected Ice Sage empowered gem tooltip.
Corrected typo in the Moonblessed Magelance description.
Slight cosmetic update to the PR0T0 Lancer costume for the Lunar Lancer.
3 unobtainable momentos have been removed from Collections.
Changed the description of momentos for consistency.
Clarified descriptions on music blocks and the blocks used to craft them.
Corrected the text used for the /stuck command.
Hotfixes - September, 2020
New:
Minor updates to the hub, including removing a floating grass block near the Leaderboard Lounge.
Updates:
Updated one of the loading screens to reference the new hub.
Flakbeard should show up on the Shadow Vault Tier even if the Pirate Cove biome was seen in the first two tiers of the delve.
Fixes:
Fixed a server crash that has caused several restarts.
Fixed a crash that could occur during combat.
Fixed a crash that could occur in some club worlds.
Fixed a hotkey reference in the "How to Play" window.
Fixed an issue allowing a few allies to impart Jump, Max Energy, or Energy Regen when doing coin challenges.
Fixed several common crashes.
Fixed an issue that caused "Delve Gateway: Refracted Balephantom" to reference the "Greater Balephantom" in its description text.
Several Chaos Chest reward recipes were unintentionally available before their actual release date. These recipes have now been hidden.
Since these recipes allowed some players to obtain those chaos chest rewards early, the related collections have temporarily had their mastery removed. Their mastery will be restored once the rewards are actually available.
Hotfixes - October 2020
Fixes:
Delve lairs with the "Death Curse" deltalith would sometimes tell dead players they could immediately release when they actually had longer to wait.
Fixed an issue where "Scribe Familiars" in Delves were hiding their names behind a malformed string.
Fixed an issue that was causing a crash sometimes when starting delves.
Fixed an issue that was preventing a monolith on challenge level 112 from being completable.
Hubdate Patch Notes content powered by Mustaches and Bunnies.
Comments and Likes
Comments

0
Like

0
You must be logged in to add a comment.
No comments or likes yet!