Eclipse
---
Released August, 2017 the Eclipse update introduced Gem Forging, Subclasses changes to the hub and the Trovian Atlas.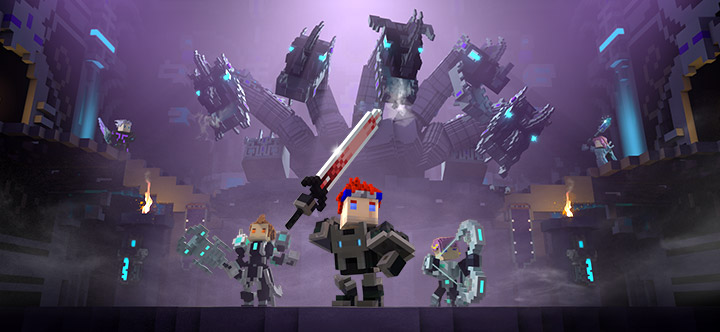 ---
Trove Blog July 24, 2017
5
10
You've heard all about the coming of a total solar eclipse, but that is only a small part of the story. Empowered by seething darkness, the forces of shadow will invade Trove on August 22, bringing about Trove's very own Eclipse. New agents of destruction arrive in the Shadow Tower and Trovians around the world will receive powerful new tools in the fight for the light!

Trove Blog July 25, 2017
0
1
Calling all Trovians. My name is Ricky "Din Othar" White, and I'm the Senior Producer for Trove. The last few months have flown by faster than Scintilla in a hurry! I'm overjoyed to celebrate the release of the Megalithic update on Xbox One, PS4, and PC, and all of us on the Trove team are humbled by the overwhelming response! I'd like to formally express my gratitude to the millions of new players who've joined us and extend them a warm welcome.

Trove Blog July 26, 2017
1
1
The Trove livestream this week will kick off the journey to Eclipse. This week we'll show off the incredibly powerful new boss coming to Shadow Towers on August 22nd, the Darknik Dreadnought! We'll also give a look at other Shadow Tower updates, answer your questions and do our famous giveaways!

Trove Blog July 28, 2017
4
11
Coming to a Shadow Tower near you with the Trove Eclipse is an epic upgrade that includes a new lobby, revamped reward system, and two new bosses! Join us on our July 28th livestream to get a look at what makes one of those bosses, the Darknik Dreadnought, tick with a dash of the new reward system for flavor.

Trove Blog August 10, 2017
2
6
The Trove Atlas is one of the brand new tools coming with the Eclipse on August 22nd. It's a gorgeous new way to travel the many worlds in style!

Trove Forums August 18, 2017
11
5
Eclipse patch notes introduces Gem Stat Augment and Reroll System, Subclasses, Shadow Tower Foyer, Shadow Hydrakken, Darknik Dreadnought, New Dragons, Trovian Atlas updates to the Fae Trickster and more.


Trove Blog August 22, 2017
0
0
Now that the solar eclipse has come and gone the real Eclipse has cast a shadow upon Trovians the world over. The Trove Eclipse ushers in powerful new enemies and the tools to fight for the light. Take part in the Shadow Escalation event and pickup daily login rewards. Use Gem Forging to raise your power to all new heights. Customize your Trovian with Subclasses, and that is just scratching this surface of this epic update!