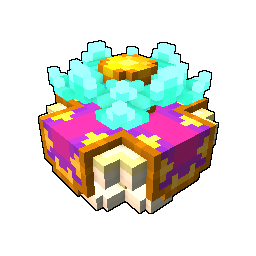 Polished Paragon
PC - Polished Paragon - November 16, 2021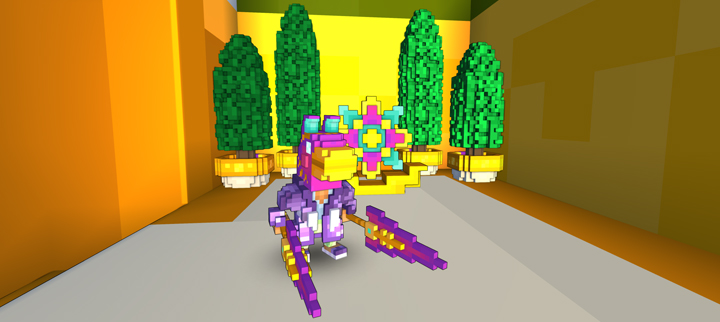 Paragon Levels allow players who have reached maximum level to continue earning benefits from the many experience-generating activities within Trove. Since the system is effectively infinite, the rewards from Paragon Levels do not increase player power on a per-level-earned basis. Instead, they are used to craft new Crystal rings with gameplay impacting ability modifiers ("Hidden Effects"), as well as unlocking new mounts, allies, and other collectables to increase your mastery.

Though Crystal 1 rings and the fun Hidden Effects they come with are relatively easy to obtain, fully equipping all classes with optimal Crystal 4 rings or obtaining all available mastery from the system will be much harder. The content in this system is intended to be unlocked by players slowly, over the course of many additional patches & features the Trove team will introduce over the coming months and years.

Because the Signatory (Crystal) ringboxes can be traded (look for the new marketplace-search button on the Ringcrafting Bench for these Signatory ringbox recipes) markets will develop over time. Gunslinger boxes may be "cheaply" available on the Marketplace within a few weeks or days, but other, less-played classes may require more time before their ringboxes can be found at accessible prices. Playing such classes may be a good way for players to make some Flux as the markets for these ringboxes mature.

Each class you own can earn its own Paragon levels and rewards, and each Prime Paragon level on any class has a chance to drop a Primal Paragon Cube or Paragon's Mark (among many other rewards). Whether you use those rewards to make Ringboxes to give to friends, sell on the Marketplace to other Trovians, or race to unlock all Mastery from the Paragon Workbench is up to you <3


More Infos >>> HERE <<<
Reaching level 30 with a class is no longer the end, but a new beginning!
Classes will now continue to earn experience after reaching level 30, though this experience will not go toward standard Levels, but instead contribute to Paragon Levels.
Paragon Levels do not provide stats like regular levels. Instead, Paragon Levels provide Trovian Loops, while prime Paragon Levels provide class-specific Primal Loops. (Yes, primes as in "whole numbers not divisible by any other whole number greater than 1".)
These loops are automatically claimed, and appear in the currency section of the inventory.
Players will receive a one-time variable amount of these Primal Loops and Trovian Loops for free in their Claims depending on previous experience gained with each class. Players with classes already at Level 30 will be at Paragon Level 1 when the patch is released. Otherwise reaching level 30 will put the class at Paragon Level 0.
These loops are used to craft Signatory Rings (a.k.a. Crystal Rings), and also to temporarily empower these rings through a process called Polishing (see the Ringcrafting section below for more information).
Two new Badge types are available related to Paragon Levels, located under the Gameplay badges:


Total Paragon levels earned.
Minimum Paragon level across multiple classes.

In addition to granting Primal Loops, prime Paragon Levels also grant:


Primal Paragon Pinatas (see the Primal Paragon Pinata section for more information).
An opportunity to gain immediate rewards found in the Primal Paragon Pinatas. These rewards can include most of the items from the Primal Paragon Pinatas (generally at a higher drop chance), but will not drop ore, glim, flux, the style unlockers or Primal Paragon Pinata mount.
They can also rarely drop Primal Paragon Cubes, and will extremely rarely drop Golden Signatory ringboxes for the currently active class.

If running low on Primal Loops, the Celestial Paragon Provisioner (at the Paragon's Palace, below the Club House in the Hub) sells Primal Paragon Cubes for credits. These can additionally be found on the Crystal tab of the store.
Primal Paragon Cubes can also be crafted at the Paragon Workbench for 15 Trovian loops, or, once per week, for 10 Trovian Loops.
When opened, Primal Paragon Boxes give 1 Primal Loop for the currently active class.
Though it may take a long time to reach Paragon Level 1000, doing so will achieve a millenia rollover. That class will loop back around to Paragon level 0, allowing them to re-collect all previously earned rewards.

Primal Paragon Pinatas can be obtained through the following methods:


1 Primal Paragon Pinata is added to the player's inventory when reaching a prime Paragon Level (with an additional one for active Patrons)
Primal Paragon Pinatas can be purchased for credits from the Celestial Paragon Provisioner or the Crystal tab in the store

In addition to ore and flux, these pinatas are a way of obtaining Trovian Loops.
These Pinatas can rarely (or VERY rarely, in some cases) contain: a new mount, a new set of wings, new weapon & helmet styles, and new weapon and helmet auras.
They can also rarely contain Primal Paragon Cubes and Paragon's Marks, which are used at the Paragon Workbench (also found within the Paragon's Palace). These Paragon's Marks can be used to craft 4 new mounts, 5 new allies, 1 new ship (and sail), 1 new banner style, 1 decoration box, and 1 new pair of wings.
Primal Paragon Pinatas now drop more flux and glim than other pinatas. Additionally, these pinatas drop Veridium, Cinnabar, and Nitro-Glitterine instead of Shapestone, Formicite, and Infinium.
The Primal Paragon Pinata mount can be deconstructed in to 15 Primal Paragon Pinatas.

Players can now level Ringcrafting up to 300.
Crystal rings--also referred to as Signatory Rings--can be crafted by players with 300 skill in Ringcrafting at the Ringcrafting bench.
Rather than choosing from 1 of 4 ring-types like previous tiers, Signatory ringboxes allow the player to specify which class the ring is made for: determining whether the ring rolls with Physical Damage or Magic Damage and changing which Hidden Effects will appear on the ring. Neither Health Regeneration nor Stability can appear on Crystal Rings, and Energy Regen cannot appear for Revenant, Pirate Captain, Lunar Lancer, Dino Tamer, or Boomeranger.
Hidden Effects are a way to temporarily enhance the power of rings by augmenting one of the class abilities.
Crystal Rings can be placed in the Ring Polisher (also found in the Paragon's Palace) to empower one of that class' Hidden Effects for 9 days (plus the remainder of the current day) by spending a Primal Loop for the associated class. Patrons receive an additional 4 days for a total of 13 days (plus the remainder of the current day) of Hidden Effect.
Each day of Polish expires at 11 AM UTC, the normal reset time.
When the Polish runs out, another Primal Loop must be spent to choose another Hidden Effect or to re-activate the previous Hidden Effect.
Each of these class specific Crystal/Signatory Rings comes with 2 available Hidden Effects.
Each class currently has 3 Hidden Effects total:


Knight:


Iron-er Will - Increases the damage redirection done by Iron Will and the knight gains increased damage reduction.
Over Charge - Using Charge gives a movement speed increase temporarily.
Smashing - Damage Dealt by Smash! reduces the cooldown of Iron Will by 1 second.

Chloromancer:


Phytobarrier - Creates a shield at low health that reduces damage.
Weird Growth - After dealing damage gain a buff that spawns plants randomly nearby for a short time.
Gatling Gatling Gatling - Basic attacks have a chance to spawn a Mini Green Gatling. Mini Green Gatlings have a chance to spawn Mini Mini Green Gatlings.

Bard:


Peaceful Moment - Peaceful song buff reduces damage done to allies.
Musical Master - The Bard gains a Critical Damage Buff when all 3 bardsong buffs are active.
Overload - At max Melody gain a small damage boost.

Boomeranger:


Blast Bow - Triggers an explosion on each bow attack.
Cyclone - The 3rd melee attack now pulls enemies in.
Overstuffed Urn - Urn triggers an additional effect.

Candy Barbarian:


Emergency Snack - Spawns a Cupcake when taking damage below 50% hp that refills the energy bar and resets ability cooldowns.
So Sweet - Swirlwind now spawns a Gumdrop as well.
Spin To Win - Reduces the energy cost of Swirlwind and removes the Movement Speed reduction.

Vanguardian:


Champions! Congregate! - Fired Up and Force Flash now apply to up to 2 nearby allies when used.
Combo - Energy Blast now applies the same damage increase that Eye Lasers applies.
Heros Stand - Laser Leap and Heros Charge grants a buff that heals while dealing damage for a short time.

Dino Tamer:


Oh my Dinos! - Dino Buddy now spawns two minions instead of one.
MR. CHOMP CHOMP! - Dino Mount now spawns a T-rex minion.
Deep Wounds - Applies a damage increase debuff to enemies dealt damage by a Dino Tamer and their dino summons.

Dracolyte:


Dragon Force - Summon two Dracolyte allies when using the Ultimate.
Firestorm - Spitfire has a chance to grant a buff that allows it to be freely used for a short time.
Dragonborn - When dodging the Dracolyte leaves a Burnt Offering.

Gunslinger:


Berserk Slinger - When using run and gun gain berserk increasing damage and attack speed, but greatly reduce movement speed.
Lock n Load - Dodging gives an instant Charged shot. Resets after a short cooldown.
Stunning Ammo - Charged Shot attacks have a chance to stun.

Ice Sage:


Nice Ice Baby - The Big Chill Summons an Ice Crash on the player. This Ice Crash changes the ground to ice.
As Cold as Ice - While on ice the Ice Sage gains additional critical hit chance and critical damage.
Chill Out - Frozen Ward triggers at low health.

Lunar Lancer:


From the Moon - When in Lunarform, basic attacks have a chance to spawn meteors from the sky.
Cliffhanger - Dodging lowers the cooldown of Grapple and Empowered Grapple. This ability has a short cooldown.
Need For Speed - After using the buffed grapple gain a speed buff instead of attack.

Neon Ninja:


Clone Jutsu - The clone created by Shadow Flip explodes at the end of its duration.
Float Like A Butterfly - Gain slowfall for the duration of Final Technique.
Recharge - Gain energy when dodging.

Pirate Captain:


All Hands On Deck - Using Man O War now summons a Pirrot Cannoneer as well.
AVAST YE!!! - Basic Attacks cause minions to attack the player's target, as well as applying a debuff increasing damage done to it.
Raiders - First Mate has a chance to spawn doubloons when it hits enemies.

Shadow Hunter:


Sneaky Traps - When dodging the Shadow Hunter drops a Sun Snare.
Tactical Shot - Using a fully charged Radiant Arrow increases damage temporarily.
Unholy Heal - When enemies with Shadowmark are defeated the Shadowhunter is healed a small amount.

Revenant:


Speed Spears - Spirit Spears no longer slows the Revenant.
Spirit Squad - Spirit Storm summons a group of tiny Spirit Wraiths.
Vengeful Storm - When at low health Spirit Storm is triggered automatically. Has a long cooldown.

Tomb Raiser:


Banshee Blast - Basic attacks have a chance to summon Baby Banshees.
Ghost More - Reduces the energy drain from Ghostform.
Skellbiggle Split - Using Bonetourage has a chance to summon a larger skellittle. When this large skellittle dies it will spawn skellittles.

Fae Trickster:


Dance Partner - Faerie Dance summons a Fae Juggernaut that taunts enemies.
Mobilize - Faerie Dance summons one large enchanted Staff that follows the player.
Trick Trick Boom - When taking damage the Fae Trickster has a chance to spawn a Glittlerbomb at its location. This Gltterbomb has increased range and stun.

Like existing Crystal equipment, Crystal rings range from Crystal Level 1 to Crystal Level 4.
3 tiers of Signatory ringboxes can be crafted at the Ringcrafter's Bench: standard, Royal, and Gilded.
Royal ringboxes guarantee a Crystal 2 or better ring, and Gilded guarantee a Crystal 3 or better ring.
When crafting new Signatory ringboxes, there is a small chance that the quality will be upgraded to the next tier. This can trigger more than once, including the chance for a Golden ringbox, guaranteeing a Crystal 4 ring.
Royal and Gilded ringboxes require 5 Ringcrafter's Tickets or 5 Gilded Ringcrafter's Tickets to craft, which can be obtained by loot collecting crystal rings:


Crystal 1 rings give 1 Ringcrafter's Ticket
Crystal 2 rings give 5 Ringcrafter's Tickets
Crystal 3 rings give 1 Gilded Ringcrafter's Ticket
Crystal 4 rings give 5 Gilded Ringcrafter's Ticket

A new badge type is available related to Polish under the Polish section of Gameplay badges.
Signatory Rings have 3 visual representations for each class. While these visual representations do not impact the ring's stats, they will change the name of the item by adding the prefix "Entrancing" or "Illustrious".
Each Crystal Signatory Ringbox recipe has a "search on marketplace" button next to the Craft button to make these easier to find in the Marketplace.


With the Polished Paragon update, we do not want Bomber Royale to be the best way for players to gain Paragon levels, and we want players to engage with it because they find it enjoyable or want to obtain the Bomber Royale rewards for themselves rather than to acquire economic power.
Bomber Royale no longer gives experience.
Bomber Royale's Merchant has been replaced by a new workbench, the Bomber Bench.
Bomber Royale's Collection Rewards are no longer tradeable.
The Boom Boxes reward has been removed from both season's rewards.
Some Rewards were previously available from the merchant in both seasons. Those rewards are now only available from the Season 1 tab of the Bomber Bench, but a recipe to convert Season 2 coins into Season 1 coins at a 1 to 1 rate is available. Please take care as there is no way to convert Season 1 coins into Season 2 coins.
Two new rewards have been added: The Bomber Bench and the Ally Up.


The Bomber Bench can be placed in your cornerstone or in your club worlds and allows the crafting of all Bomber Royale rewards.
The Ally Up will increase the size of your ally for 5 minutes.

There is now a cap on all Bomber Royale Season 1 and Seasons 2 coins of 300. Players who currently have more than 300 coins will not lose any existing coins, but will not be able to acquire more until they are back under the cap.
There is a new Daily that can be completed once each day to earn a Bomber Royale Coin, rewarding five Bomber Royale Season 2 coins.
The rewards granted by Bomber Royale tomes have been increased to 25 coins of the relevant season rather than 5.
New temporary banners are now available for as awards for the top 10/100 spots on the Bomber Royale leaderboards
These banners give no mastery or stats, they are purely for showing off and go away each Monday when leaderboards reset


More Infos >>> HERE <<<
The Geode tab has been replaced with the Crystal tab.
The Primal Paragon Pack has been added – give your paragon a boost with this pack of 25 Primal Paragon Pinatas, 5 Primal Paragon Cubes, and 1 Paragon's Mark.
The Powerful Paragon Pack has been added – power up your paragon with this pack of 125 Primal Paragon Pinatas, 25 Primal Paragon Cubes, and 6 Paragon's Mark.

Only 1 Leviathan biome can now spawn per world (previously up to 2 could spawn). These biomes now spawn closer to starting locations and are more distinctly colored on the map.
Fixed an issue that could cause Leviathan biomes to spawn without lairs.
Killing Leviathans (Lobstroso, Timmense, and Ifera) in Delves now counts towards the Leviathan badge as well as the "Daily Leviathans Killed" leaderboard.
Lobstroso in a Delve at Uber 8+ depth will now drop a Fragile Chitin Torch and have a small chance at dropping: its mount unlocker, its hovercycle recipe, and/or an Ancient Chitin Torch.
Timmense in a Delve at Uber 9+ depth will now drop a Fragile Seasinew Torch and have a small chance at dropping: its mount unlocker, its hovercycle recipe, and/or an Enchanted Seasinew Torch.
Ifera in a Delve at Uber 10+ depth will now drop a Fragile Tendril Torch and have a small chance at dropping: its mount unlocker, its hovercycle recipe, and/or an Enshadowed Tendril Torch.
Delve portals can no longer be placed with click and drag placement, but instead can only be placed one at a time.
Starting at depth 110, XP Coins can drop very rarely from Delves. These items can be consumed to give the currently active class 10,000 experience. These items cannot be traded, and if not consumed will decay if the player has been offline for 3 or more hours.
From Depths 160+, slightly more Inert Geodes will drop.
From Depths 160+, on Delve floors with Shadowy Soul Vaults, slightly more Freerange Electrolytic Crystals will drop from Heavy Pressurized Chests.
From depths 160+, the chances for a boss' rare mount to drop has been slightly increased.
The Delve Workbench can now (finally) be crafted at the Delve Workbench under the "Delve Recipes" section.
Fixed an issue where tombstones would sometimes teleport back to the delve entrance.
Increased experience from most activities in Uber-10 adventure worlds by 10%. Note that this increased experience only applies to characters that have already reached level 30.
A new version of the mimic block has been added - the new Adaptable Mimic blocks will also mimic glowing and textured blocks.
Added 10 additional dev allies under the Dev Dream category.
PVP matches in club worlds should be accessible again.
Fixed an issue that could cause some enemies to stop attacking the player.
Snowbite's Favorite ally now gives 15% physical damage instead of 50%.
Adjusted the thrusters for the Afterburn mount.
Refurbished Crystallogy Crates no longer displays "Lucky" sometimes when giving "Sweet" rewards.
Fixed an issue that was causing some benches to have slightly offset titles.
Fixed a small typo in Current Consecutive Days in metrics.
PC - Polished Paragon - November 16, 2021 content powered by Mustaches and Bunnies.
Comments and Likes
Comments

0
Likes

0
You must be logged in to add a comment.
No comments or likes yet!