PTS – Network Test: We Need Your Help!
Dear Trovians,

We have an exciting opportunity for you to be part of an exclusive network test and help shape the future of Trove. Mark your calendars because from 26.05.2023 3 PM UTC to 29.05.2023 12 AM UTC, we invite you to join us on the PTS for an extraordinary testing event!

💎 What's in it for You?

We deeply appreciate your commitment to making Trove the best it can be. As a token of our gratitude, every player who participates in this testing will receive 2 Dev Dream Boxes on their linked account.

📆 Save the Date:

Start Date & Time: 26th May 2023 at 3 PM UTC
End Date & Time: 29th May 2023 at 12 AM UTC

⚠️ How to Participate:

• Select the PTS option in your Glyph launcher & download the client: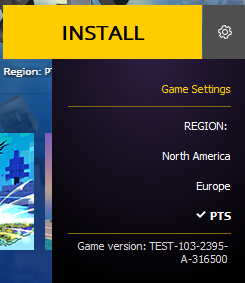 • Launch the PTS and start playing!
• To get a copy of your live character on the PTS, all you need to do is perform the following command on the live servers: /exportaccount

Thank you for being an integral part of our community. Your dedication and support mean the world to us, and we couldn't embark on this adventure without you. Together, let's make this network test an incredible success! We can't wait to see you on the PTS starting tomorrow!

Your Trove Team! 🌟
Comments and Likes
Comments

0
Like

1
You must be logged in to add a comment.