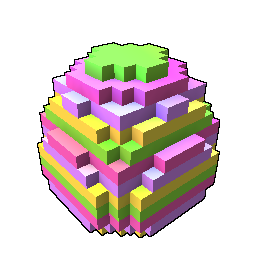 Creations Challenge - Bunfest Dungeon Eggshells
Prepare for spring! We challenge our Creators and Modders to color Eggs for the Bunfest dungeons!
Hello, dear Trovians!
Have you ever participated in our annual spring event - Bunfest? If so, you might remember big egg-shaped dungeons that can be found in Adventure Worlds. It is never too early to prepare for celebrations, so for this contest we would like to appeal to your creative side and ask you to color some eggshells!
After the contest Trove Developers Team will pick some shells and add them to Bunfest Dungeons for everyone to see in game!
---
Task
Color provided Egg Dungeon Shell template
Convert your edited .qb to a .blueprint, name it eggshell_shellname[YourName] and upload it to Trove Creations as 1* Dungeon
---
Duration
This contest will run from 10th Jan 2022 to 30th Jan 2022. Users are only allowed to submit their creations between 10th and 28th Jan 2022!

---
Rules
- Shell coloring must be family-friendly. It must not contain any text or non-trove symbolics. Must not contain memes or references to other intelectual property. For example you can not color shell as Pokeball or put a Pepe Frog face on it.
As a coloring tip - try using bright and saturated colors to make Egg feel like it belongs in colorful world of Trove. Avoid using automated coloring such as Gradient or Noise, hand-painted things usually look and work much better.
Only Specular material map is allowed to be used. If you do not know what this means - check out our Detailed Instructions step 3.1.
- One person can submit up to 5 shells. Each shell must be uploaded as a separate creation, and a follow-up can only be submitted after a previous one has been checked by Creations Team. Only use 1* dungeon upload option for this contest.
- You must not change the dimensions of the egg template - We provide you with 39x, 39z and 47y sized model, these are the maximum dimensions that a 1* Bunfest dungeon can have for an egg shell. Making the model smaller is also not allowed, please keep it the same size.
- However, you can add extra elements on the shell surface, for example like a bow on the existing shell variation. Such additions must always stay within 39x39z47y. Entrance must always stay open.
- You must not change the shape of the egg on the inside - adding voxels on the inside could cause other parts of this dungeon to be pierced through. Removing voxels would create holes. We will check for the inside to stay intact.
---
Rewards
An Eggshell creation of sufficient effort uploaded between 10th and 28th Jan will be rewarded with 1x Trovesaurus Reward Token.
Additional +1 Trovesaurus Reward Token will be granted for every Approved Egg Shell, up to 5 shells and so 5 tokens!
Every Approved Egg Shell will be considered by the Trove Team for adding to the game. If added, a creator will receive 250 Credits from the Developer team for every Shell.
---
Detailed Instructions
Following instructions provide a step-by-step guide on how to participate. If you are new to the whole voxel-model-making-process, don't be scared, it is much easier than it seems! If you are a veteran of Trove modding you are likely familliar with everything up to step 4, but please do check out steps 5, 6 and 7 :)
---
Afterword
If you have followed the steps above you should have an Eggshell entry waiting for moderators to review it. We will go through shells on review a few times every week and Approve ones that follow all the rules and look good.
You will get 1 Trovesaurus Reward token if you had a shell of sufficient effort as Active during this contest. For every Approved shell, you get +1 Trovesaurus Reward token to a maximum of 5!
If you got your shell Approved but feel inspired to create more - follow steps 3-7 again! One user can have up to 5 approved eggshells during this contest.
No shells will be reviewed or accepted after the contest ends, except ones that were set to Review before time runs out.

After the contest ends, Trove Developers will check all Approved shells and pick ones they want to add to the game. Every Accepted Shell will be paid with 250 Credits to an in-game account of the same Username.
Warning! We are only able to grant these Credits to PC users!
Comments and Likes
Comments

0
Likes

13
You must be logged in to add a comment.