Bard Modding Challenge - Results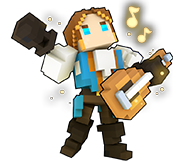 Good day, dear Trovians!
This challenge had such an outstanding amount of spectacular entries! Good job everyone :)
It was extremely hard for the Trovesaurus Team to pick out the winners. Every mod that was entered in the competition has something worth admiring about it, wow!
Congratulations to those selected as winners, for those that weren't selected we hope you can be proud of the work you have done. We hope you continue making Trove a better place with your mods! <3
Note: The Trove Team were not involved in judging and the winners are not being selected for inclusion into the Trove game by this contest.
Super Bard Pack Winner
The suit of this Mexican-inspired musician has such a fresh and powerful theme! Saturated colors and all the right accents really make it shine. Execution quality and attention to detail give this masterpiece a unique appeal, extraordinary work!
---
Bard Pack Winners
The idea behind this costume is very fun and fits the Bard class so well! Color explosions and clean shapes work together to create an unforgettable and bright image. Singing crystal shaped like an actual jukebox is absolutely on point.
The theme of this costume is absolutely perfect, Albairn-inspired suit is probably the most royal outfit a Bard can have in Trove! Stunning contrasting colors, clear details, harp-shaped lute, unique singing crystal and overall exceptional quality makes it really special.
Who would have thought that an old PC would make for such a funny Bard outfit?! So unexpected but so good! Creativity really shines throughout the whole costume, and that Dial-up modem for a Singing Crystal absolutely must come with a special sound ;) On top of that all - helmet options offer a very nice variety!
---
Highlights
Following entries deserve a shout out for just how well-made and appealing they are! Authors of these receive x2 of Reward Tokens, if they have not been awarded earlier.
The helmet design on this costume is out of this world! Such a refined and beautiful take on Amperium theme, well done :)
Fabulous undead raver. Exceptional attention to detail and a gorgeous singing crystal!
Challenging concept turned into glorious voxel shape! Hoofs, horns and that facial expression are just precious.
Stunning colors and very attractive execution. It is astonishing how well all the design elements work together!
Most adorable concept ever! Absolutely great shapes translate silky mane and overall fluffiness into voxels in the best way possible.
Both of these costumes are so very good looking. Exemplary effort, execution and innovation of existing themes!
---
Other Entries
All other entries receive x1 Reward Token \o/
---
Full Entry List
Comments and Likes
Comments

1
Like

3
You must be logged in to add a comment.
[Deleted User]
2y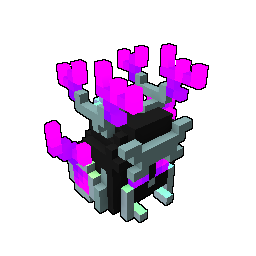 TheStimerGames
2y