Trove – Adventures is an all-new, free expansion for Trove! Today we've taken things to a whole new level with completely revamped clubs for playing with friends, a brand-new tutorial for players just starting with Trove, new tools for building, and so much more!

One of the most exciting new additions is the Forbidden Spires biome. This gorgeous new Asian-inspired zone holds new dungeons, enemies, a brand-new resource (Cinnabar) and spectacular styles!
Want to go clubbin'? Clubs got a massive upgrade with new ranks, new permissions, and the addition of Fixtures that can grant bonuses or offer new adventures in exchange for great rewards!
As luck would have it, there's also the new Super Starter Pack that includes forty bucks worth of goodies for $5 USD! The Super Starter Pack is available to everyone until November 21, 2017 but after that it'll only be available to new players, so don't delay!
The Infinium Chef Pack comes with a cornucopia of culinary collectibles and is available now!
Last, but not least, we have a stunning new Blocky Bonus item that is available to claim from the Deals tab of the Trove Store – Prismatic Lasercorn! This frolicking, rainbow-colored unicorn is FREE for players on the PC, Mac, Xbox One, or with PlayStation Plus through December 18th!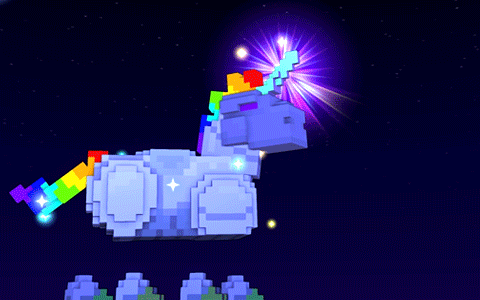 Join us on the start of an incredible new adventure!
Share your thoughts on Trove – Adventures with us here.
This article was automatically generated from official news posts, it may be expanded later.
Source: http://www.trionworlds.com/trove/en/2017/11/13/begin-an-exciting-new-adventure/
Comments and Likes
Comments

0
Likes

0
You must be logged in to add a comment.
No comments or likes yet!