Fae VS Undead – Until September 28, 2021!
Dear Trovians,

September always comes with a conflict in Trove. Last year, our Pirates fought against the Ninjas. Thankfully, this year, the waters and the neon skies are peaceful. It's a shame that the same can't be said for the underground. New tombs have been discovered underneath the Fae Forest and Cursed Vale and it has triggered a war between the Wild Fae and the Undead!

The Undead Envoy, Skullerd, and the Fae Prince, Fabio Fae La Fearso, are waiting for you in the hub hoping that you can help them. Choose a side (or play both) and venture into the all new tombs to defeat enemies and farm Marks of Honor that can be used to craft many new rewards, like tomb Terraformers and an all new block type: Target Dummies!

Don't forget to explore the tombs to the last corner, because maybe there are treasures hiding there!

The Fae VS Undead Event begins September 14, 2021 at 11:00 UTC/13:00 CEST/4:00 PST/6:00 CST and ends September 28, 2021 at 11:00 UTC/13:00 CEST/4:00 PST/6:00 CST.
Be careful, on Nintendo Switch the event will start a little later, but will also last 14 days.

Do not hesitate to visit the FAQ of the event >>> HERE <<<.

And because good habits should not be changed, the special packs from last year's event as well as this year's new pack are available in our in-game store for the duration of the event: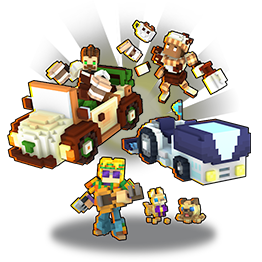 Pirate's Pack of Ninja Treasures
Brew Crew
Quick, adventurers! Go and get rid of them in order to restore peace and end this war once and for all – all while earning tons of rewards!
Good luck to everyone !
Best wishes,
Your Trove Team!
Comments and Likes
Comments

0
Likes

0
You must be logged in to add a comment.
No comments or likes yet!