Vanguardian Class Preview
Source: http://www.trionworlds.com/trove/en/2018/03/16/vanguardian-class-preview/
March 16, 2018 |
Etaew |
1,940
The Vanguardian is the hero we deserve. Rising up against the forces of shadow she is a stalwart protector of the innocent and a fierce warrior of the light.

Whether you prefer to keep your foes at a distance and pepper them with powerful energy blasts or get up in their grills and unleash fists of fury, the Vanguardian packs a powerful wallop.
Passive
Touchdown – Gliding supercharges the Vanguardian. This charge is released when landing causing a shockwave that destroys blocks in the open world. In an effort to be a good clubmate this ability doesn't trigger in Club Worlds.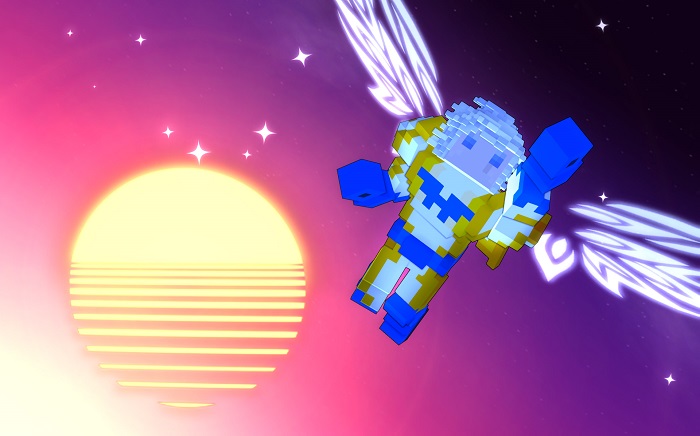 Ranged Mode
Mouse 1: Rapid fire energy orbs are unleashed from the Vanguardian's hands.
Mouse 2: Plasma Blast – Fire a ball of pure energy that explodes on impact and deals AoE damage.
1: Fired Up – A self-buff that increases damage and attack speed.
2: Hero's Charge – This skill triggers a dash forward and a self-heal. It also swaps the Vanguardian into Melee mode.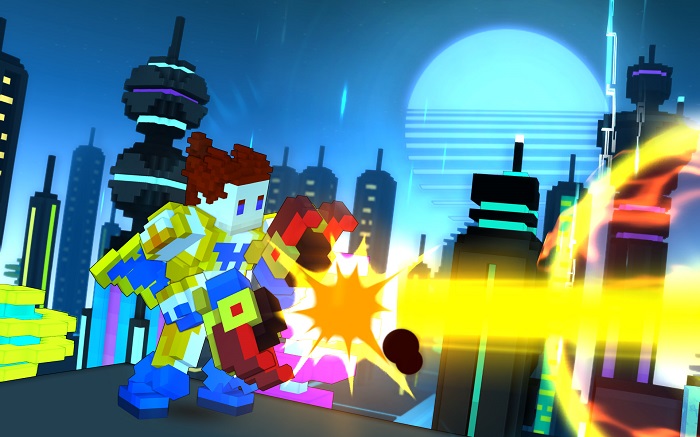 Melee Mode
Mouse 1: Pummel enemies with powerful punches.
Mouse 2: Eyebeam – A high powered blast of energy is fired from the Vanguardian's eyes doing damage and increasing damage done to the target from any source.
1: Force Flash – An AoE kinetic energy pulse that damages nearby enemies, buffs your movement speed, and increases your damage resistance.
2: Laser Leap – Leap backwards, get a big burst of energy, and swaps back into ranged mode.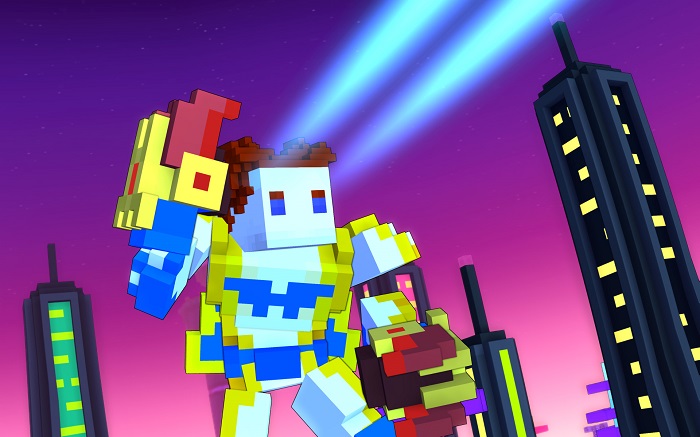 She is a physical damage class regardless of whether you prefer melee or ranged combat so you won't need to swap gear to reach peak power.
We're thrilled to add a new weapon style for the Vanguardian: fist weapons. These come in many shapes and sizes including brass knuckles, long-bladed knives, or giant foam fingers.
As our first "expert class" the Vanguardian is taller than other Trovians and has a more fluid set of animations whether you're fighting, gliding, dancing, dashing, or dabbing.
She can be crafted for free using in-game materials at the Resistor Workbench or picked up with a pack available in the Trove Store when Heroes goes live. The Vanguardian cannot be unlocked using a Class Coin.
Special thanks to the incredibly talented @ArtByCelyne for this gorgeous interpretation of Trove's newest hero!
When Trove – Heroes is unleashed upon the world the Vanguardian will rise up to answer the call to action – are you ready?
Comments
Contribute to the discussion or help improve an article by leaving a comment below.
Add Comment
You must be logged in to add a comment.