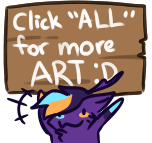 WyvernWarrior223 Dragon Friend and Artist ˏ₍•ʚ•₎ˎ
About
"Tried, to get a rise out of magnolia petals but soon scattered them over you."
'Watch me fall and drop away.'
Hello, I am Wyv and I am an artist who's still learning how to art!!
Don't play this game much anymore ;;
A lot of 2017 and before art here but perhaps it's better to leave it all here to look back <3


~ Other Places ~
DeviantART -|- FR
Quick Links
Fishing Guide
Ingame Commands
-
Power Ranger DT
-
Free Class Coin
Before you reach Mastery 20 by using WyvernWarrior223's Refer-A-Friend Code
In-Game
No Link Set
This user has not linked their Trovesaurus account with their TroveTools.NET mod loader.
Badges that this user has earned through site activity.
A list of people that this user is following.
A list of people that follows this user.