Guardians of the Twilight Stratospheres, Lancers accumulate lunar power as they fight, eventually erupting into full Lunatic Mode. They can also call down a blessing from their missing deity, and use Grappling Spear for damage and mobility.
The Lunar Lancer can be purchased from the Trove Store for:
8000 Cubits or
1050 Credits
Or can be unlocked for free with the use of a Class Coin (trade) or Class Coin (no trade).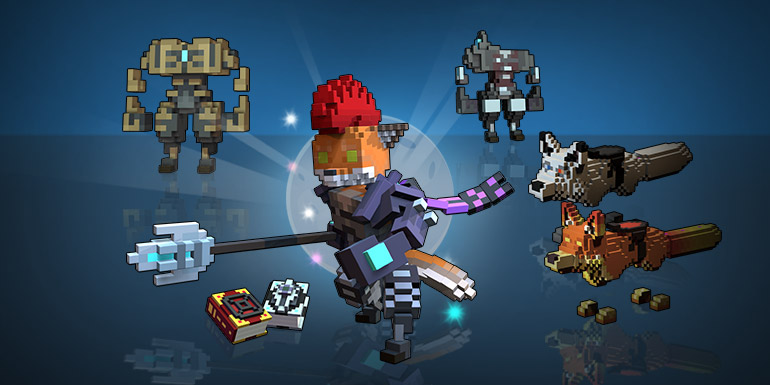 Lunacy Pack
Outfox opponents as the Lunar Lancer, a moon-blessed fox armed whose swift grappling spear and nimble feet makes every foe under the stars tremble! Race across the land on the back of two unique, fleet-footed fox mounts, dress to thrill with a collection of foxy costumes, and unlock awesome weekly bonuses with two exclusive, mystical tomes.
Features:
Buy Lunacy Pack on Trove Store
Lunacy

[PASSIVE]

Chance to gain moon power on hit. Gather enough to become infused with the power of the moon. When transformed you will have increased movement speed, 25% reduced damage and a 50% bonus damage

Grappling Spear

[M2]

Throw a spear then use again to grapple to it. Each use deals light area damage.

Crescent Combo

1

Swing your spear in a wide-arc and charge for a second hit. The second hit deals heavy damage and knocks your targets towards the moon

Blessing of the Moon

Crown of the Levithan Slayer: Ifera

Summon a spear from the heavens that increases stability, heals, and adds to the movement speed of all allies. It also damages enemies caught in the area.
| | |
| --- | --- |
| | Store |
| | Level 10 |
| | Level 20 |
| | Level 1 |
| | Store |
Comments and Likes
Comments

3
Likes

0
You must be logged in to add a comment.
DarkSharkBark
why it say 1.5k creds its 1050 XD