Chaotic Suger Glider & Strike A Pose Edition - Patch Notes
Posted August 25, 2015 by
Etaew (PC)
and viewed 2,298 times.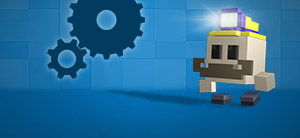 This patch adds a week long double Chaos Factor bonus, Squeakers the Sugar Glider from the Chaos Chest, a Tradable version of the Patron Pass, an /epicpose command, an Intro Video and other fixes.
The servers will come down at 7 AM PDT / 2 PM GMT and should be down for approximately 3 hours.
Source: http://forums.trovegame.com/showthread.php?52931-Patch-Notes-8-25-2015-Chaotic-Sugar-Glider-amp-Strike-A-Pose-Edition!
Game UPDATE
Twice the Chaos!
For this week only the number of Chaos Chests granted daily through your Chaos Factor has been DOUBLED.
Additionally, the Chaos Chest's contents have been shuffled! This week's top prize? Squeakers!
Squeakers the Sugar Glider!
Do you like cute things? Of course you do, you're no monster! Appearing in Chaos Chests this week is Squeakers is a Sugar Glider mount, able to run on the ground and glide in the sky like dragons! (Note: Squeakers does not like fire, do not attempt to get him/her to shoot fireballs).
Squeakers will appear in the Chaos Chest for one week, but he (or she) will return to the game in some other fashion in the very near future!
Tradable Patron Pass
You can now purchase a version of the 30 Day Patron Pass which can be traded or gifted to other players!
Once consumed, the 30 days are locked to that account.
Remember, you can check your patron status by looking for the Patron Icon, to the left of your Mastery Rank in your character sheet (default key: C).
/epicpose
You can now type /epicpose to get some sweet camera angles to show off your mount & gear, and whatever world you're in!
Screenshots taken though /epicpose are placed in Trove folder within the Documents folder for the current user
IE: C:\users\[user name]\My Documents\Trove\
Intro Video!
Trove now has an intro video, detailing some of Trove's lore and backstory!
It only plays once because we understand how precious your milliseconds are.
If you want to view it again, perhaps because in your excitement you slammed your face into the keyboard and didn't get to finish watching it, you can re-enable it by checking: Settings>Miscellaneous>Play Intro Movies
Misc
Sails: Foolish Fish, Inner Sea, Much Sail, Raider Sail, Bee Sail and Ladybug Sail should correctly unlock their respective sails now.
Added footprints to the following Raptor and Bird mounts: Blue Budgie, Pink Budgie, Robo Raptor, Holiday Raptor, Fancy Raptor, Friend Raptor.
Fix for modifier keys not displayed in Settings -> Controls when used with a mouse button.
You can now bind mouse wheel up or down to any action.
Build Mode rotate placement now defaults to Shift + mouse wheel up & shift + mouse wheel down.
You can now click "OK" immediately after having pasted a name into the "Add Friend" input.
The dropdown menus in Settings>Video now show their contents immediately (previously they didn't show up until you hovered the mouse over them).
Tomb Raiser's Banshee's Boon damage aura should no longer flicker erratically.
Inventory icons no longer appear reversed when using OpenGL for rendering.
Dangling pointer fix (I don't know what this means, but it's fun to say!)
Related Pages
Comments
Contribute to the discussion or help improve an article by leaving a comment below.
Add Comment
You must be logged in to add a comment.