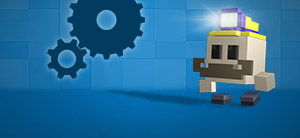 This patch adds the new inventory UI and updates the map to have biome icons.
Source: http://forums.trovegame.com/showthread.php?22792-The-New-Deal-Edition
Discussion Thread: http://forums.trovegame.com/showthread.php?22794-Trove-quot-The-New-Deal-Edition-quot-Patch-Discussion-Thread
== FEATURES ==
UI UPDATE!
The new inventory UI is live!
MAP UPDATE
The world map now has biome style-icons to help differentiate different types of biome. Now color-blind people can find candy biomes!
== GAME UPDATE ==
NEW IN THE STORE
Deals are now live! Deals appear in the store under the 'Packs' tab and are the equivalent of a Credit purchase with an extra bonus on top. As you purchase goods on the store (earning Patron Points) your deals improve. You can also get free 'Treasure Troves' full of resources under the store in place of a deal, randomly. Deals rotate daily.
Deals are in BETA and may change in the future. Buy them if you're interested in what is in them and know that they may change or go away entirely!
Some deals have Shadow Pinatas. Yes, they're real.
The Starter Pack is now only available for the first 8 days after a new player starts playing the game.
Selecting "Get Chaos Chests" on the welcome screen now opens the store to the Goods page.
The common rewards for the original 'Party Animal' pinata have been adjusted to be similar to current pinata rewards (i.e., Glim, Flux, and Common Ore).
CHALLENGES
Challenges now enforce world level requirements. If your level is too low for the world you're in, then you cannot participate in challenges.
Tier 3 and 4 challenge levels now award 3 Caches each.
DRAGONS
Old Blue Dragon Pup and Elder Dragon Pup have their own 'Dragon' category in the Allies tab of the collections window.
The Spirit of Azorian badge now grants 100 Mastery Points and a permanent +10% Max Health, +1 Jump and + 50 Magic Find
ADVENTURING
Adventurer's Neon Dragon Kami Boxes no longer drop. They have been replaced with Earthly Dragon Adventurer's Chests, which have a chance of containing the rare Paunchy Dragon Pup (designed by Gadget Cat) or Prodigal Peridoter (designed by Astrick) mounts!
Completing a dungeon will now create a large red 'x' over it in the world, similar to lairs.
* Uber 5 now requires level 26 and Uber 6 now requires level 36.
LOOT
Weapons that drop now are always of a type the class you are playing can use.
Magic Find now happens more often regardless of your Magic Find stat. Because that's more fun.
Uber 6 chests will now properly drop Shadow Key Fragments and Gems.
Invading Shadow Giants in Uber 6 worlds will now properly drop Tentacles of Q'bthulhu.
BUG FIXES AND POLISH
Fixed three of our most common crash causes. Please continue to send crash reports!
Dungeon objective completion sound effects are now way more exciting.
Laptops with Nvidia GPU's should now default to High Performance Graphics for Trove.exe (ie. it will autoselect the Nvidia GPU instead of the Intel/AMD one)
Bench Section decor pieces have been fixed and should all have unique (and matching!) models.
The Mullet and Argumentative Strawman hairstyles should now work better with hat styles that leave the top of the character's head exposed.
Weapons are now hidden in build mode.
Unobtainable allies have been removed from the Allies tab of the Collections window.
Fixed escape menu showing up when using escape to close other windows.
Fixed bug where Chronomantic Emblem had no effect on Ice Sage's ultimate.
Fix the store not remembering your select payment method after reopening the Store.

Note: You still need to change your default payment method in Account Management otherwise it will revert after logging out.
Comments and Likes
Comments

0
Likes

0
You must be logged in to add a comment.
No comments or likes yet!