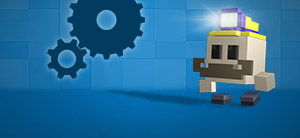 Arriving on 6/9/15!
The Polish Edition update adjusts Golden Thread objectives to be more friendly to newer players, allows appearances to be customized by class, and adds a compass to the game as well as other lesser changes.
Source: http://forums.trovegame.com/showthread.php?20948-Polish-Edition
FEATURES
GOLDEN THREAD UPDATES
The new golden thread objectives are labeled to be newbie friendly. If you're an experienced player, you can buy anything on the store to complete the 'unlock class' objective, and you can complete any dungeon for the tutorial dungeon objective.
APPEARANCES NOW BOUND BY CLASS
Heads are now bound per class but as a result have had to be reset. You'll need to re-customize your head!
STARTER PACK DEAL
The Starter Pack is now only available for 8 days after you start playing the game. In the future there will be more deals to replace it, but it's still one of the best around! For now this will still be available on the welcome screen despite timing out, take advantage while you can!
NEW: COMPASS
Added a compass! The compass shows not yet completed dungeons and lairs if you're close enough to them.

GAME UPDATE
GOLDEN THREAD
Adjusted the tutorial world experience and added a number of new golden thread objectives.
Some of these objectives are very specific (unlock a class, complete a certain quest).
They will trigger, at least for now, on any store purchase or quest complete, so that experienced players can also do them.
The mastery based golden thread objectives had had their Cubit rewards reduced.
Assault and Dark Heart quests can now be started by attacking the Ominous Totem or Dark Heart trigger.
The hub portal in the tutorial is gone and players must progress to the "enter the hub" golden thread objective before they can use "H".

NEW IN THE STORE

MECHANICS
New players no longer start with a class coin.
Pressing and holding an ability button while another ability is active now causes the first ability to trigger as soon as the second ability ends.
Pressing and releasing an item button while a holding an ability button will no longer end the ability.
Players can no longer drop items while dead.
Players now need mastery rank 2 to enter club worlds.
ADVENTURING
Completed dungeons will now remain in the UI and show they've been completed.
You can no longer enter Adventure portals that are too high level for you.

Note: You can still /joinme, but that may not stay forever!

Dungeon Entry and Exit portals can now be seen properly from every angle. Exit and Entry portals are now more easily differentiated from each other.
You can now interact with portals from further away!

UI AND SETTINGS
Moving items now moves full stacks by default.
Right-click now equips items.
Right-click now unequips items from the hotbar.
There are new buttons on the lower left of the screen to help you find the most frequently used windows.
Added new How to Play screens - see these by clicking the How to Play button on the ESC menu.
Controls settings no longer display "Left" next to Shift, Alt or Ctrl. (This may require you to rebind some actions if you were using these keys).
The Health and Energy globes on the hotbar have returned to the opposite sides.
Short tooltips are now displayed for item slots on the adventure mode hotbar.
The Cancel key binding now closes windows.

CLASSES
DRACOLYTE
Fishing while in dragon form will no longer cause players to get stuck.
FAE TRICKSTER
Increased the bullet speed of basic attacks.
GUNSLINGER
Increased the bullet speed of basic attacks.
ICE SAGE
The Ice Sage's Frozen Ward will no longer sometimes remain after changing classes.
Decreased the maximum range of Icicle Drop.
Decreased block damage of Icicle Drop.
Increased the bullet speed of basic attacks.
NEON NINJA
Fixed bug where the Neon Ninja basic attack didn't work after switching from Boomeranger.

CRAFTING
Reduced the basic forge and deconstructor crafting cost.
You can now craft up to 9,999 items at once! That's over 9,000!

DECONSTRUCTING
Higher level shadow rings should deconstruct for more resources.
Shadow level 3 with high star values should deconstruct for slightly less resources.
Shadow level 4 rings now deconstruct into a bit more resources.

FLASKS
The Lifesaver Flask now appropriately resets death save.
When using a flask, heal effect is now applied immediately instead of after drink animation.

BUG FIXES AND POLISH
The player model is now appropriately transparent when entering a world in build mode.
Mounts are now transparent when in build mode.
Players and enemies will no longer sometimes appear to warp upward after stepping on a vertical launchpad.
Other players will no longer sometimes appear to continue attacking after dying.
Fixed bug where path preview remained in the world if you died while aiming a throw.
Added dungeon chest art and VFX.
Added new VFX for teleporting to the hub.
Updated random costume box visual.
A unique sound now plays when you upgrade rarity at a forge.
Rare Bears and Rare Bird description text no longer refers to them being part of a collection.
Comments and Likes
Comments

0
Likes

0
You must be logged in to add a comment.
No comments or likes yet!