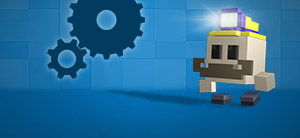 The Forge More, Better Edition arrives today updating the Forging system, simplifying equipment, adding new shadow levels and adjusting rings and loot drops.
Source: http://forums.trovegame.com/showthread.php?19538-Forge-More-Better-Edition
FEATURES
FORGING UPDATE!
Forging has been updated to be progressive instead of random! This change has huge rippling effects, and touches every piece of equipment in the game.
EQUIPMENT SIMPLIFICATION
Equipment no longer has a forge level.
Individual stats on equipment no longer have hidden power level rolls.
EQUIPMENT POWER
There are now 5 ranks of power per rarity of equipment, from at 0 to 5.
These ranks, along with the rarity, determines how strong the stats are on an item.
Forging increases the power level by 1.
If the value is at 5 (max), forging it will instead increase the item's rarity by one level.
BONUS STATS
Bonuses are represented by *s next to a stat.
Each stat on a piece of equipment can have up to 2 levels of bonus.
The first one gives +10% value, and two give an additional +20%.
Pearls of Wisdom can now be used to increase the bonus on a random stat if the equipment already has 4 stats.
NEW SHADOW LEVELS
Items now have 4 total possible Shadow Levels possible, up from 1.
Items that are Shadow Level 1 can be upgraded to Shadow Level 2 and above.
Items that are Shadow Level 4 have more possible health, health regen, and damage than equipment does now, but slightly less possible attack speed, jump, and movement speed.
FORGING
Perfect Prisms are now used only to upgrade items from Resplendent rarity to Shadow Level 1.
Chaos Forges can only re-roll the 3rd and 4th stats.
Re-rolled stats at a Chaos Forge are now effective immediately, instead of after locking in.
You can still re-roll as many times as you wish.
Chaos Forges now only use Tentacles as a special resource.
RINGS
Resplendent boxes can now drop Shadow Level 1-4 rings in addition to Resplendent Rings.
Rings now give no individual bonus *s to stats.
Rings always have a power value of 5.
LOOT DROPS
Equipment can now drop with a random number of bonuses on stats and stars.
Magic Find can now trigger up to Shadow Level 4.
---
GAME UPDATE
NEW IN THE STORE
Chaos chest has been randomized. Try your luck and you may get a clipper, a unicorn pet, or fully crafted meownts!
The Costume box now gives Boomeranger costumes.
50 and 100 Spring Pinata packs are 50% off for this week only!
ADVENTURING
Adventure boxes now drop slightly less often normally and we're aiming to keep them live for 3 weeks instead of 2, including an extra week for the Bento Box!
Thursday bonuses are now +200% up from +100%, including adventure boxes, pemblock and the meownt.
NPC bosses can now spawn with summoning turrets as an ability.
Boss quest chests now drop 3 items, and minor quests chests now drop 2 items.
MECHANICS
Reduced the XP required for levels 2-6. You know. For kids.
Players under mastery level 5 can no longer join custom chat channels.
Spikes now deal damage over time as long as you stand on them, rather than a big 'spike' of damage.
Increased the chance for shadow equipment to drop, mostly impacting Shadow Arena rewards.
Shadow Caches now sometimes drop extra Eyes of Q'bthulhu on common rolls.
GOLDEN THREAD
Added new golden thread objectives for placing blocks, forging, buying something on the store, and being in a club.
Split out the initial dungeon completion golden thread objective into two objectives.
BUG FIXES AND POLISH
Fixed a bug where death sounds didn't play in some cases.
Fixed bug where projectiles collided with grass.
FOR ADVANCED PLAYERS: GEAR CONVERSION
Existing high rolled shadow equipment (in the currently live system, represented by the number of *s an item can have) have been translated to their appropriate shadow level rarity.
High forge equipment has translated to number of stars.
Shadow Equipment has translated *s in the following way:

0-1 *s: Shadow Level 1
2-3 *s: Shadow Level 2
4-5 *s: Shadow Level 3
6-8 *s: Shadow Level 4

Shadow Rings have translated *s in the following way:

1 *s: Shadow Level 2
2 *s: Shadow Level 3
3-4 *s: Shadow Level 4
Comments and Likes
Comments

0
Likes

0
You must be logged in to add a comment.
No comments or likes yet!