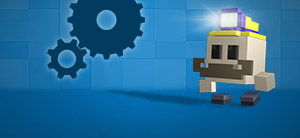 The Monster Bash patch arrives today introducing the new Boomeranger class, updates to Flasks, updates to boss abilities and other changes.
Source: http://forums.trovegame.com/showthread.php?18730-Monster-Bash-Update
FEATURES
NEW CLASS: BOOMERANGER
Master of bow, blade, bomb, and boomerang, the new Boomeranger class is well suited to take on any challenge!
FLASK UPDATE
Flasks are now split into two parts: vials and emblems!
You can now equip one vial, which grants health and number of charges, plus two emblems.
Emblems grant special powers when you use your flask.
The new emblems are:


+50% energy regeneration for a medium duration
+100% health regeneration for a medium duration
Double physical damage
Area of effect friendly heal
Area of effect friendly energy regeneration
Reduce cooldowns
Summon a physical damage scaling shadow shrike
Basic attacks lifesteal for a medium duration
Increase attack speed and movement speed for a short duration and automatically attack

We've also added a new vial that automatically triggers when you are about to die.
All existing flasks have been converted to the appropriate vial or emblem!
The starter vial, formerly the starter flask, has been reduced in health by 10% and quantity by 2, to 8 charges, and 40% health restoration.


If you find yourself low on cubits, more golden thread objectives are coming and will let you unlock a better vial soon!
MONSTER MECHANIC UPDATE
Boss monsters now have more variety in the special powers they spawn with! You will now die in more interesting ways. Boss monsters can now:


Spawn a copy of themselves with lower health
Pull you in
Shoot lasers
Shoot a bullet nova
Stop you from multi-jumping
Spawn spiders
Spawn mushrooms which you must destroy or be over-run
Have a damage shield that turns on periodically
GAME UPDATE
NEW IN THE STORE
The Adventure Pack is now live! It features the Boomeranger, both Costumes, and 7 flask unlocks.
Chaos Chests have been randomized! It's a party week: party it up with some party animals and club phones. Or a ladybug. There's also a rare chance for some Stormcaller's Wings!
MECHANICS
Spikes, flamethrower traps, and fireball traps have had their damage reduced.
MASTERY
The maximum Mastery level is now 160. Sit tight, new rewards are coming in a future update! If you max out before then, don't worry: all rewards will be granted retroactively.
CRAFTING
Tired of dragging stuff out of your chest in order to craft? Us too! Crafting will now use items in your personal chest, as well as those in your inventory.
MERCHANTS
When buying from NPCs, currency will now be magically whisked from your personal chests!
BUG FIXES AND POLISH
Unlocks granted through codes now work correctly.
Added /fov to temporarily set your camera's field of view.
Fixed typo in Candorian Caterpillar's flavor text.
Fixed a bug causing death sounds not to play in some cases.
Comments and Likes
Comments

0
Likes

0
You must be logged in to add a comment.
No comments or likes yet!