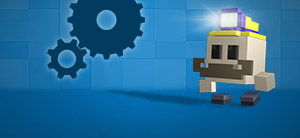 Arriving on 5/12/15!
Source: http://forums.trovegame.com/showthread.php?18140-Golden-Thread-Edition
GOLDEN THREAD
The Golden Thread is now in game! This guides new (and existing!) players to explore all parts of the game in exchange for tons of Cubits.
GAME UPDATE
NEW IN THE STORE
Added new mounts to the store! The Overlord Omniseat, the Love Seat, the Uni-Cycle, and the Ancient Cubits!
- The seats are available for credits and cubits, the Uni-Cycle for credits, and the Ancient Cubits for cubits.
Anything in the store that is purchased for Cubits is now unlocked instead of tradable.
Credit purchases have the option to be unlocked or gained as an item.
The Store Horses (Storses) have had their price increased to match the Racing Raptor.
The Style Surprise is no longer available for Cubits. Don't panic: it will return at a later date!
Randomized the chaos chest! Look for a preview of a magical floating tome, the chaos clipper, and a little leftover love.
ADVENTURING
Buddy Budgie Adventurer's Chests have been replaced with Adventurer's Bento Boxes! These have a chance of containing the Shuffling Shrimp Nigiri or Delicious Dragon Roll mounts, created by FriedSushi!
Reduced the number of buoys that spawn in the Treasure Isles.
COLLECTIONS/MASTERY
The missing radiant styles have been removed from Collections entirely. Don't worry, they'll show up soon! (We need to fix style tech before any new styles are added. Better, faster, soon.)
BUG FIXES AND POLISH
The Welcome screen is now displayed on each login.
Slightly increased performance of OpenGL shaders.
Comments and Likes
Comments

0
Likes

0
You must be logged in to add a comment.
No comments or likes yet!