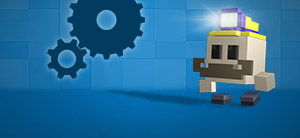 Arriving on 4/14/15, this week's patch is a bit more robust than last week's anemic update. Included are some fishing nerfs, new fish to catch, ship cannons, changes to Tentacle of Q'bthulhu drops, and a Treasure Isle dungeon from developer Grumpntug.
Source: http://forums.trovegame.com/showthread.php?16038-Meownt-and-Candy-Fishing-Edition&p=94021#post94021
NEW IN THE STORE
Chaos chest has been randomized! It's Meownt preview week! If you want a Meownt (and you do, probably more than one) open some chests.
ADVENTURING
Shadow giants now drop tentacles.
Increased the max players per spawn in adventure worlds from 6 to 8.
Treasure Isles now spawns lairs more spread apart.
ITEMS
Adventurer's Eggster Boxes no longer drop. Adventurer's Phoenix Boxes will now drop randomly from NPCs defeated and dungeon and lair chests. These have a chance of containing the rare Truefire Phoenix or Balefire Phoenix mounts when opened.
Shadow Caches now drop tentacles more frequently.
SHIPS
All ships have increased acceleration and turning rate.
Ships now have cannons and oceans have buoys to shoot.
CLASSES
NEON NINJA
Fixed a bug where Neon Ninja could get a never-ending speed buff after a Shadow Flip.
FISHING
You can now craft the Candy Fishing Pole!
There are now chocolate fish.
There are now rare enchanted fish.
Fishing sometimes now fishes up (completely useless) old boots.
Uncommon fish are slightly more uncommon.
BUG FIXES AND POLISH
Improved the aiming display when throwing.
Fixed bug where all recipes in the Collections window show 0 mastery points.
Fixed a fishing bug where you could get stuck after reeling in.
The multi-transfer prompt is now shown when dragging stacks of items into the Deconstructor.
The consecutive days logged in and max consecutive days logged in stats should work now.
Fixed a bug where fishing lures cast into the abyss in Radiant Ruins weren't refunded.
Fixed a bug where you got no fish when fishing with your last lure.
New VFX for the Shadow Hunter - Relic of the Past and Dead Shot costumes.
Treasure Isle styles now drop in Treasure Isle zones and can be unlocked by the Style Surprise.
DEV CONTENT
New Treasure Isle dungeon from Grumpntug.
COMMUNITY CONTENT
New Fae Wilds dungeon from KtlavskoX.
New Fae Wilds dungeon from Psychobeans.
New Fae Wilds dungeon from Eririka.
New Dragonfire Peaks lair from Laegh. '
New Dragonfire Peaks lair from Talitayn.
New Neon City lair from PokeyBloke.
New Undead Hills lair from MajorTom.
New Undead Hills lair from Milambit.
New Fae Wilds lair from Barneebrown and Cheeser.
New Permafrost lair from BrianVII.
Comments and Likes
Comments

0
Likes

0
You must be logged in to add a comment.
No comments or likes yet!