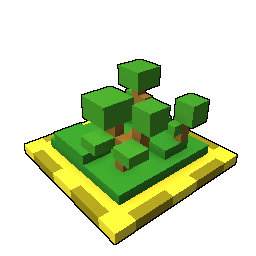 Medieval Highlands (Art Results)
Thanks for taking part in this months contest featuring the Medieval Highlands biome. Our guest judges this contest are [user=Pasteis] and
pokemon008.
This biomes featured art is provided by
SkyTheVirus
Epic colour and style!! Mushroom king is good puncher, ze pinpointed his good character!

- Pasteis
Impressive art technique! I like small shapestones over there! Yay for amazing artwork!

- Pasteis
This artwork has nice backstory, it just struck my fancy :3 Also, pixelated details are lovely! +1 yay point!!

- Pasteis
Artworks with stories are always good! Spore hands sounds sad, so yay points for poor mushrooms :'3

- Pasteis
Please be gentle, he isn't a native English speaker (all through translation site)
Take a look at this clear Air dungeon.
The screen is simple but easy to identify the game elements.
The performance of water is so beautiful~~~~
Suggestion: sky blue color purity is too high.

- pokemon008
You must have spent a considerable amount of time completing this painting.
A rare high degree of completion.
Although there is not much depiction of the details, but the overall effect is very good.
In particular, this oblique perspective, people feel a sense of movement.
Advice: Buildings on the ground a little bit crooked?

- pokemon008
The way you color is very unique,
So many color sets in a picture will not feel messy.
Body size gives a very flexible feeling.
Suggestion: Let the picture focus be more prominent

- pokemon008
Among the many works I was immediately attracted by this one,
Not only has a very cute model, the most important thing is to look at the little detail in the bottom right corner. There are small mushrooms standing on the castle! How lovely

- pokemon008
Comments and Likes
Comments

0
Likes

0
You must be logged in to add a comment.
No comments or likes yet!