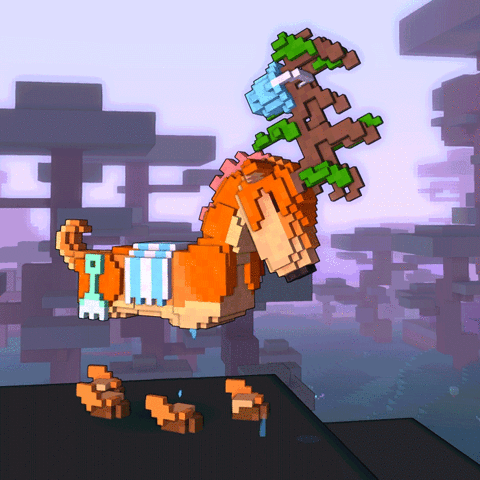 Blocky Bonus
Starting with this hotfix on PC and Xbox One (and by October 4th for PlayStation 4) there's a great new mount, Sabaddar, Summer's Rapture (pictured above), available in the Store - just log in and claim it from the Deals tab.

Please note this does require PlayStation Plus or Xbox Gold Live on their respective platforms.

This free bonus item will be available for only a few weeks, so don't miss out!
Gameplay Improvements
Due to player feedback, the Shadow Tower difficulties have been reevaluated and the health and damage on Normal and Hard modes have been reduced to allow a smoother transition between floors.
The required Power Rank to enter the Lobby along with floors 1 and 2 on Normal Mode has been reduced from 400 PR to 250 PR. It is not advisable for characters at 250 PR to attempt to solo the Shadow Tower on Normal, so bring a few friends!
In the Shadow Tower Lobby there are now 5 portals for each difficulty to help ease congestion
Entering the Sky Realm and Shadow Tower now corresponds correctly with the listed Power Rank requirement
Due to player feedback, Binding Darkness no longer drops from Empowered Gem Boxes, and the rates of Gems and Class Gem Key Fragments are boosted
The Gem Forge UI now displays a boost counter for each stat – a small square indicates the stat received a large increase on level 5, 10, or 15. Gems that started with 2 stats will receive the 3rd stat on reaching level 5 rather than a large increase, so they will only have 2 squares after level 15. Gems that started with 3 stats will have 3 squares.
Additional Updates
Fixed a common server crash
Added golden dragon eggs for Wyntegra, Miraldis, and Indurion to the Greater Dragon Caches
Fixed the incorrect incoming damage stat on the Personal Spikebot ally
Allies and Mounts crafted in the Radiant Dayspring now unlock directly into collections
The previously confused dragon, Baesmuth, now indicates it grants +50 Lasermancy (instead of +50 Mining)
This page was created automatically from http://forums.trovegame.com/showthread.php?128153-Hotfix-September-26-2017
Comments
Contribute to the discussion or help improve an article by leaving a comment below.
Add Comment
You must be logged in to add a comment.