St. Qubeslick has come to Trove for two reasons: to chew bubble gum and destroy Angry Tentacles of Q'bthulhu – and he's all out of bubble gum. Celebrate two weeks of daily login rewards and complete a brand new quest chain to unlock your very own St. Qubeslick ally (box not included)!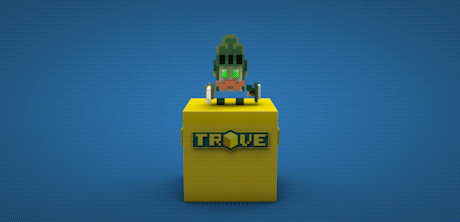 Login every day during this new celebration to pick up free loot:
March 14th – 1 Day Patron Pass
March 15th – 5 Dragon Coins
March 16th – 1 Day Patron Pass
March 17th – 10 Chaos Chests
March 18th – 1 Day Patron Pass
March 19th – 10 Gem Booster Boxes
March 20th 1 Day Patron Pass
March 21st 1 Minor Experience Coin
March 22nd 1 Day Patron Pass
March 23rd 10 Chaos Chests
March 24th 1 Day Patron Pass
March 25th 10 Chaos Chests
March 26th 1 Day Patron Pass
March 27th 1 Pearl of Wisdom
In addition to the daily rewards there's a new, seven step quest chain to help St. Qubeslick in the fight against his bitter enemies – Angry Tentacles of Q'bthulhu. Complete the quests to earn loot like Chaos Chests, Gem Booster Boxes, Empowered Gem Boxes, or Diamond Dragonite!
Venture into the Medieval Highlands to find a new dungeon available only during the event. Take down tentacles and use the Shadowshaping Bench to make the Tranquil Tentacle ally.
Defeated tentacles have a rare chance to drop a new decorative trophy to place in your Cornerstone or Club World.
Join the fight against the deadly disciples of Q'bthulhu and get epic loot in the process!
This article was automatically generated from official news posts, it may be expanded later.
Source: http://www.trionworlds.com/trove/2017/03/15/st-qubeslicks-day-14-days-of-daily-rewards/
Related Pages
Comments
Contribute to the discussion or help improve an article by leaving a comment below.
Add Comment
You must be logged in to add a comment.