Fishing in Trove: A Comprehensive Guide (updated with Plasma fishing)
Let's be honest here, fishing is like the most boring thing you can do at Trove. Who wants to watch their character stand around and wait for a catch? But it can also be rewarding after obtaining stuff you can get from it.
INTRODUCTION
Fishing was introduced to Trove during the Fish 'n Ships update (March 2015). The point of it is to catch a fish, with the use of a fishing pole and a lure, then deconstruct it to gain resources and add it to your collection. Players can currently fish in water, lava, and chocolate. Plasma fishing will be added soonTM, the Devs just forgot to add it because of all the craziness of MoP ;) This is a meme now boys, the devs just announced Plasma fishing will be added, see this PTS patch or the Producer's Letter for more info.
GETTING STARTED
To start fishing, you need first a fishing pole and
Lure which can be bought from the NPC Saltwater Sam at the Hub. Before you start fishing, be sure that you have equipped a fishing pole and you have lures in your inventory. Now you can cast your lure on a liquid block by pressing the "F" key. Here comes the boring part, you have to wait ~20-30 seconds until you can see the lure splashing. Press "F" to reel the fish, you have ~5 seconds to respond before wasting your one lure. Rinse and repeat until you're all out of lure. Also you can either catch a fish or an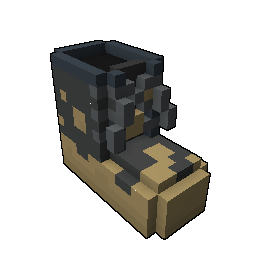 Old Boot which is kinda useless (why kinda? You'll see later..)
LURES
You can't fish without these. Can be purchased from Saltwater Sam at Hub. They cost 10
Glim each or can be bought in bundles of 9 or 90.
FISHING POLES
As I stated above, it is used for fishing, duh. All fishing poles give 20 mastery points.
IMAGES
FISHING POLE
USED FOR ..
"HOW DO I CRAFT THESE?!"/MATERIALS
Basic Fishing Pole
Water

100 Glim
can be bought from Saltwater Sam

Molten Magma Sifter
Lava
Candied Fishing Cane
Chocolate
Plasma
Lady of the Lake
Catching Enchanted Fishes
Wish Fisher
Showing off that you're one of the 1 000 chance to catch this rod or that you like rainbows (cosmetic)

Random drop from fishing all day long

Master Angler's Rod
Showing off that you're Mastery rank 120 or you want to look shiny (cosmetic)
Chaos Rod
Completing the look on Shadow's Disciple (cosmetic)
Frenzied Fisher
Showing off that you conquered the boredness in doing the [Platinum Fishing Badge (cosmetic)
FISHES
These are the ones you want to get.
You can't fish if...

you have no lure (duh)
you have no fishing pole equipped (also, duh)
you're underwater
the water is Sea of Regret
you're riding a moving ship
The first time you deconstruct a new kind of fish, it will be added to your collection thus giving you mastery points.

5 mastery points for Common fish
10 mastery points for Uncommon fish
25 mastery points for Rare fish
Every fish you catch has a weight. If you caught a fish that isn't average sized, when the fish is deconstructed it will give you a placeable Wall trophy of that particular fish.
You can't sell fishes and fish trophies in the Marketplace (which sucks in my opinion).
Water Fish
A. Common
NAME
WHERE YOU CAN FIND IT
REWARDS
1. Jumping Jadefin
Anywhere in the water
3 Glim
2. Blue Balladine
5 Glim
3. Violet Verseskimmer
10 Glim
4. Genteel Goldfish
20 Glim
5. Crimson Siltdancer
40 Glim
6. Thalasstian Princess
60 Glim
7. Abyssal Gazer
80 Glim
B. Uncommon
1. Fat Catfish
Anywhere in the water

100 Glim

2. Saltwater Swordfish
3. Radiant Shardine

50 Glim
10 Radiant shards

4. Enchanting Faefish
5. Frozen Orefish

50 Glim
10 Glacial shards

6. School of Fish
C. Rare
1. Ancient Seafish
Anywhere lacking another rare fish

1 000 Glim
1 Ancient scale

2. Wide-eyed Noobfish
Tutorial world (type /tutorial to teleport there)
3. Radiant Dawnfish
Sky realm (during day)
4. Radiant Moonfish
Sky realm (during night)
5. Gloamfish
Cursed vale
6. Weird Fisheye
Shadow tower
7. Dry Bones
Desert frontier
8. Hub Hugger
Hub
---
Lava Fish
Note: Magma sifter fishing pole must be UNLOCKED to be able to fish on lava, NOT necessarily equipped
---
Chocolate Fish
Note: Candied fishing cane must be UNLOCKED to be able to fish on chocolate, NOT necessarily equipped
A. Common
NAME
WHERE YOU CAN FIND IT
REWARDS
1. Mint Choctacoise
Anywhere in chocolate
3 Glim
2. Blueberry Pie-ranha
5 Glim
3. Pygmy Plum Pike
10 Glim
4. Orange Marlingue
20 Glim
5. Cherry Jellyfish
40 Glim
6. Sour Skate
60 Glim
7. Reef Liquoral
80 Glim
B. Uncommon
1. Crawling Cupcake
Anywhere in chocolate
2. Fudgsicle Fish
3. Candycap Mushfish

50 Glim
3 Mushroom Chunks

4. Candied Cutterfish
5. Rich Browniemone

100 Glim

C. Rare
1. Ancient Chocolurker
Anywhere in a chocolate lacking another rare fish

1 000 Glim
1 Ancient scale

2. Blue High Flying Cotton Candish
Height requirement of 200 or above. 50% chance you catch a Pink Candish instead
3. Pink High Flying Cotton Candish
Height requirement of 200 or above. 50% chance you catch a Blue Candish instead
4. Pressurized Gobfish
Anywhere but Hub World (Height requirement of 20 or below)
5. Popular Poptopus
Club world
6. Chocodile
Candoria
---
Plasma Fish
Note: N-0 Depth Scoper must be UNLOCKED to be able to fish on Plasma, NOT necessarily equipped
---
Enchanted Fish
Note: Lady of the Lake fishing pole must be EQUIPPED; Can be also be caught in lava, or chocolate, it's not only limited to water
BADGES
ADDITIONAL TIPS
As I mentioned above, you don't need the lava, chocolate and plasma fishing poles to be equipped when fishing on those respective liquids.
Type /debugtext (

not really recommended since the the UI overlaps with the character level

An update was made to move the text below the Mastery rank bar) or /loc to determine the elevation of the area you're on. Or just take a look the numbers above your compass (the coordinates to be exact)
It's recommended to fish during Wednesdays because of the daily bonus, +50% faster fishing. Sorry dudes, devs changed the Daily Bonus on Wednesday, its now Gem Boxes.

The devs brought it back! Try to fish on Tuesdays to take advantage of the faster fishing bonus. Also, you can fish faster with Patron or with special weekly events.
Type /join fishing to join the fishing channel! Helpful if you need a fishing buddy or something.
Fishing can be less boring! Some people put Trove in windowed mode and move it to the half of your screen and use the other half to open Youtube or whatever. BUT BE WARY THIS CAN HAPPEN TO YOU. (Nah just kidding DON'T EVER DO THIS, well you can just don't blame me)
---
Have I made you realize that fishing isn't that boring? Or at least another way to collect materials? Well then, use your newly accumulated knowledge to get that one rare fish you don't have! I'll try to keep this thing updated and thanks for reading! :>
CHANGELOG/UPDATES:
2018-07-22 = cleaned up the 'tips' section

2017-03-08 = added the thing about A. & E. scales and also the coordinates thingy
2017-03-11 = changed the images of fishing poles to a more... ahem clear one; added the 'Badges' section
2017-10-24 = added info regarding Plasma fishing announcement
2017-11-25 = added Plasma fishes
2017-11-27 = adjusted links to fishes & fixed tables for dark mode
Comments and Likes
Comments

8
Likes

11
You must be logged in to add a comment.